Watch The Video
Are you looking to build your business's brand or sell more products?
You likely need to invest in your marketing budget to get over the hump.
Anywhere from 5% to 25% of your budget might go to marketing, depending on your industry.
But if you don't see a good return on your investment, what's the point in spending it?
If you're a small business owner, you probably don't have the time, let alone the expertise, to work with that kind of budget.
That's where hiring a marketing firm to handle your digital marketing can deliver optimal results.
Not convinced yet?
Let's run through the reasons why working with a marketing firm should be top of your business agenda.
You Have No Marketing Experience
Unless your background is in marketing, you won't have the professional experience that a marketing professional will have.
Considering the money you could spend on marketing that could go nowhere, trying the DIY route is likely to be a gamble you can't afford.
That isn't a downside…
It isn't a bad thing you don't have the marketing experience you need – a jack of all trades is a master of none.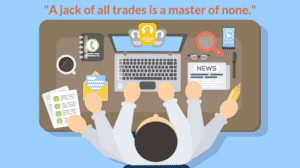 If you admit this early, you can save your business money and move forward with a marketing strategy that can increase sales, rather than hurt your profit margins.
It's better to bring in outside help than attempt to master skills when you don't have the time or money to lose.
Spend Money, Nothing Happens
It may already be too late to avoid a DIY marketing strategy.
That's not a problem though. Sometimes, we learn the best lessons by seeing results in action.
However, if the marketing results you've seen in the past have been poor, that's another reason to look into hiring a marketing firm for your efforts instead.
There are many variables that marketers will look at that you won't even know of.
Marketing isn't just buying ads, spending money and crossing your fingers. It involves careful analysis and refined strategies.
In the end, it's all about results.
If your return on your marketing investment has been poor in the past, look to bring in outside help.
You Can't Afford an In-House Hire
We've talked about doing it yourself, but what about hiring somebody to do your marketing for you? That'll save you time, right?
It's not that simple because of the costs involved in bringing somebody on board.
Need one marketing professional on your team?
Hiring one could cost you around $80,000 a year on average. An entire team could cost you a million dollars or more.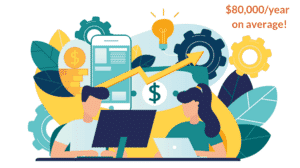 That doesn't include the cost to train and develop their skills, and it's no guarantee of performance or quality.
Hiring a marketing firm could cost you half of the budget you'd need to hire a single marketing manager, and with no need to invest in their training or development.
Your Focus Needs to be Elsewhere
Business owners have a tendency to want to run and do everything, especially if their business is in its infancy.
That's why the best business owners balance their priorities and outsource some of their business needs to other workers.
Can you afford to spend several hours of your day focused on marketing?
The time you have to spare will depend on the business you're running.
If you're running a retail business, you need to think about stock purchases, employee hires, premises, cash flow… to name a few!
Can you afford to lose time in some of these areas to get to grips with marketing?
Ask yourself, "Are there marketing companies near me that can do the job better?"
Speak to a marketing firm about their average day.
It's unlikely you could fit in the same time commitments at the same skill level, without giving up resources elsewhere.
Marketing Experts Are at the Top of Their Game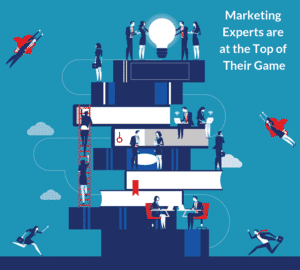 We've already mentioned that hiring somebody in-house can require significant training costs.
With a marketing firm contracted to help you, that is not the case.
Marketing experts already know their stuff. They're experts in their field, with skills that range from social media marketing to copywriting to graphic design.
They're already at the top of their game, and you need to take advantage of their skills coupled with your knowledge of your own space to get the best return possible on your marketing budget spend.
If you're looking to hire an expert, you also must decide whether to hire a marketing agency or consultant to help.
Do you know the difference?
Decide for yourself with our helpful guide on deciding whether to hire a marketing consultant or agency.
Hiring a Marketing Firm Could Save You Time and Money
Your business needs marketing services if it will make a name for itself in the vast and competitive marketplace. That doesn't mean you'll be burning away cash, however.
Investing your marketing dollars into a marketing firm can deliver the kind of results you desire.
They're experienced and familiar with the latest marketing trends and focus all of their energy on building your brand.
By hiring a firm to take on your marketing for you, you can free up your time and resources for other important areas for growth such as business development.
Time to take the plunge?
Drop us a message and we can discuss how we can bring your next marketing campaign to life and deliver a fantastic return on your marketing investment.